bagchain bpm
Especially for small airports and or airlines we developed the bagchain bpm. A very cost efficient 753 solution.
bagchain bpm process
In the baggage area and/or ramp staff scan the ULD and baggage labels
The scanned data will be converted into a standard BPM message
Uploaded to the bagchain cloud and distributed to the customers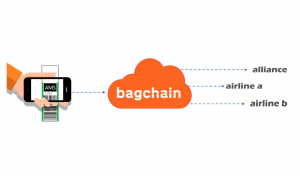 bagchain App
The bagchain bpm solution can be delivered with handsets or via an iOS App.
bagchain cloud
The bagchain BPM handsets or App are connected with our bagchain cloud via Wi-Fi, 3G, 4G or LTE.
It is a fully standalone application with no need for a BSM feed.