The bagchain mobile app automates the entire process to check-in passengers baggage & hand luggage and print a baggage label directly using a mobile printer, or print it at one of our bagchain kiosks using the QR code. The App is used by airline/airport agents in the departure lounge, curb side, the security filters, connection centers and at the gate to check-in baggage and excess hand luggage.
Getting started
Open the bagchain mobile app:
Select the QR Code (A)
Point the camera at the provided QR code
Enter the provided password
After the password is entered you will see the below home screen.
When you select the settings button (C) you will see the App settings. Don't change anything as they are predefined for your user role.
In case that you are not using a mobile printer and use the bagchain kiosk to print the baggage label, set the setting "QR code print" (1) on
If you are validating the baggage weight set "Add weight" (2) on
If needed you can log-off by selecting (D). If you want to start using the app again you will need to scan the provided QR code again.
Scanning the boarding pass
Open the bagchain mobile app
In the mobile app press scan boarding pass (E)
The camera will open and you will be able to scan a boarding pass barcode (F)
When the baggage is successfully checked-in the QR code will be displayed (G)
Scan the QR code at the bagchain kiosks to print the baggage label
When ready select Done (G) and return to the home screen
Scanning a boarding pass & validate the bag weight
Open the bagchain mobile app
In the mobile app press scan boarding pass (E)
The camera will open and you will be able to scan a boarding pass barcode (F)
Enter the weight of the bag and select "Continue" (G)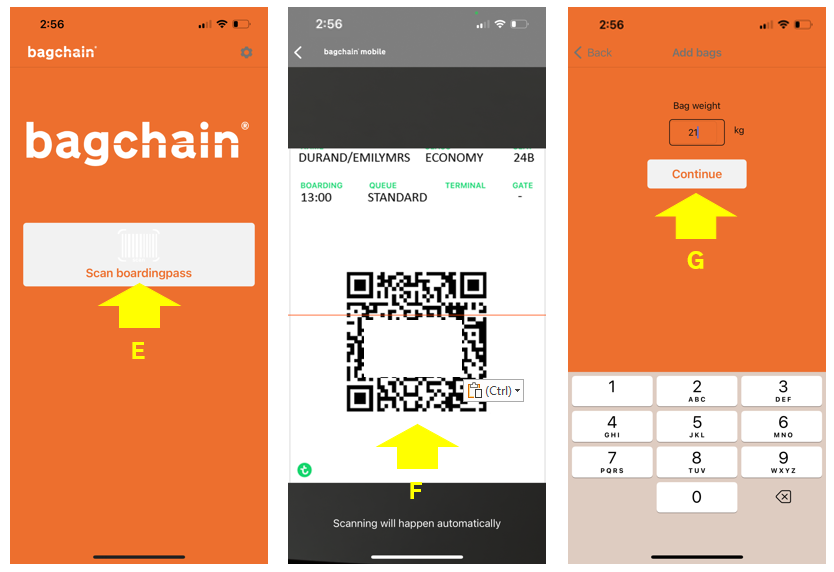 When the baggage is successfully checked-in the QR code will be displayed (H)
Scan the QR code at the bagchain kiosks to print the baggage label
When ready select Done (I) and return to the home screen
Reprint a baggage label
In the unfortunate event that the baggage label is not printed, there is a possibility to reprint the last scanned boarding pass again
In the mobile app press scan "Reload last boarding pass" (H)
The QR code from the last transaction will be displayed 
Check the passenger details
Scan the QR code at one off the bagchain kiosks to print the baggage label
When ready select "Done" (I) and return to the home screen